Since its beginning in 1994…
The MN River Builders Association has donated more than $172,000 to local Charities and Associations— though we are a Non-Profit Corporation. Just Another Reason to be Proud to be a Member of the MRBA!
Our Giving Through the Years:
Habitat for Humanity: $16,000+
$9,000+ from Tour of Homes
$1,100 from Golf Tournament
$6,000 from Raw Fusion
Raw Fusion: $124,500 to Date
Habitat for Humanity (2011, 2012): $6,000
MN Valley Action Council (2013): $7,500
Backpack Food Program (2014): $12,000
Partners for Affordable Housing (2015): $17,500
One Bright Star (2016): $20,000
Greater Mankato Area United Way (2017): $28,500
Mankato Educare Foundation (2018): $33,000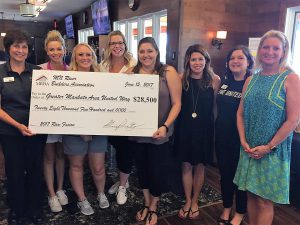 The MRBA was very honored to donate $28,500 to Greater Mankato Area United Way, our 2017 Raw Fusion Beneficiary.
MSU Construction Management Department: $13,000
MRBA Dream Home Program: $19,200 to Date
Hurricane Katrina Relief: $4,000
Partners for Affordable Housing: $3,500
SMILES Center for Independent Living: $3,500
Alzheimer's Association: $3,000
ISJ Hospice: $2,500
Habitat for Humanity (included in Habitat total above): $2,000
United Fund of Garden City: $1,200
March of Dimes Chefs Auction: $5,600
2008 Playhouse earned $1,850
2012 Playhouse earned $3,750