The MRBA is focused on supporting our future workforce in the trades and construction industry.
In 2023, the proceeds from our MRBA hosted events will go to an Education Fund at the Mankato Area Foundation to support our area schools and our future workforce. The Foundation (MAF) is a 501c3 and will be our fiscal agent for these two funds:
MRBA Scholarship Fund:  Scholarships for students in southern Minnesota who are looking to attend a post-secondary school for education in the trades or construction industries.
MRBA's Building Our Future Grant Fund:  Grants supporting area high schools in southern Minnesota in relation to the construction and trades industries. Grants could support educators, tools, programs, etc.  We have 29 high schools in our 8-county area that will be eligible to apply for grants.
In addition, funds will also be used so the MRBA can provide educational materials and opportunities for students and parents to learn more about careers in the trades.
To learn more, watch this video:
You can contribute and support our students and future workforce.
MAKE A DONATION TODAY! CLICK HERE OR 
Our Giving History Since 1994…
The MN River Builders Association has donated more than $245,000 to local Charities and Associations— though we are a Non-Profit Corporation. Just Another Reason to be Proud to be a Member of the MRBA!
Our Giving Through the Years:
Habitat for Humanity: $16,000+
$9,000+ from Tour of Homes
$1,100 from Golf Tournament
$6,000 from Raw Fusion
Raw Fusion: $196,000 to Date
Habitat for Humanity (2011, 2012): $6,000
MN Valley Action Council (2013): $7,500
Backpack Food Program (2014): $12,000
Partners for Affordable Housing (2015): $17,500
One Bright Star (2016): $20,000
Greater Mankato Area United Way (2017): $28,500
Mankato Educare Foundation (2018): $33,000
Jonathan Zierdt Foundation (2019): $40,000
MN Valley Action Council (2021): $11,500
MRBA Education Fund (2023): $20,000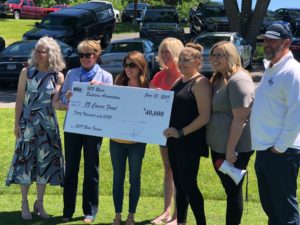 The MRBA was very honored to donate $40,000 to the JZ Cancer Fund in 2019!
MRBA Dream Home Program: $20,870 to Date
Hurricane Katrina Relief: $4,000
Partners for Affordable Housing: $3,500
SMILES Center for Independent Living: $3,500
Alzheimer's Association: $3,000
ISJ Hospice: $2,500
Habitat for Humanity (included in Habitat total above): $2,000
United Fund of Garden City: $1,200
Young Life: $1,170
March of Dimes Chefs Auction: $5,600
2008 Playhouse earned $1,850
2012 Playhouse earned $3,750
MSU Construction Management Department:
$13,000