Filed in Construction Industry, Economics, Home Building on September 17, 2014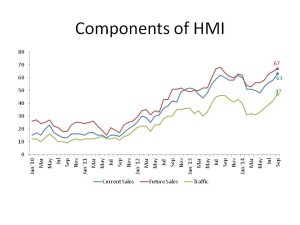 Builder confidence in the market for newly built, single-family homes rose for a fourth consecutive month in September to a level of 59 on the NAHB/Wells Fargo Housing Market Index (HMI), released today.  This latest four-point gain brings the index to its highest reading since November of 2005.
"Since early summer, builders in many markets across the nation have been reporting that buyer interest and traffic have picked up, which is a positive sign that the housing market is moving in the right direction," said NAHB Chairman Kevin Kelly.
"While a firming job market is helping to unleash pent-up demand for new homes and contributing to a gradual, upward trend in builder confidence, we are still not seeing much activity from first-time home buyers," said NAHB Chief Economist David Crowe. "Other factors impeding the pace of the housing recovery include persistently tight credit conditions for consumers and rising costs for materials, lots and labor."
Derived from a monthly survey that NAHB has been conducting for 30 years, the index gauges builder perceptions of current single-family home sales and sales expectations for the next six months as "good," "fair" or "poor." The survey also asks builders to rate traffic of prospective buyers as "high to very high," "average" or "low to very low." Scores from each component are then used to calculate a seasonally adjusted index where any number over 50 indicates that more builders view conditions as good than poor.
All three HMI components posted gains in September. The indices gauging current sales conditions and traffic of prospective buyers each rose five points to 63 and 47, respectively. The index gauging expectations for future sales increased two points to 67.
Builder confidence also rose across every region of the country in September. Looking at the three-month moving average for each region, the Midwest registered a five-point gain to 59, the South posted a four-point increase to 56, the Northeast recorded a three-point gain to 41 and the West posted a two-point increase to 58.
« Previous Post
Next Post »